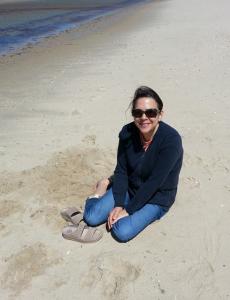 DEBORAH VANDERWOLK
Nantucket artist Deborah VanderWolk brings fantasy and vibrance to her paintings of simple everyday scenes. Working predominantly in watercolor and mixed media, she turns common views from the countryside to the big city into vivid scenes of color and whimsy.
Born in 1959, Deborah was exposed as a young child to the art of many cultures. She lived with her parents in Puerto Rico, St. Thomas, a small fishing village in the south of France and Nantucket. She also traveled widely throughout Europe with her parents. An only child, she created her own world, immersing herself in such diverse color-filled experiences as snorkeling in the Caribbean, dancing in the streets at Carnival, and wandering the streets of Nantucket, the place she calls home.
The family home on Nantucket at 98 Main Street was in front of the James Hunt Barker Gallery at 1 Pleasant Street which fed her early love of art. She was particularly captivated by a private collection of Grandma Moses shown at that gallery. She took her first art classes with Beverly Hall, Nantucket's well-known spiritually-inspired photographer. Later, on a trip to Vienna, she was introduced to Hudertwasser who inspired her first drawings. Her work has been further influenced by Gustave Klimt, Wassily Kandinsky and Paul Klee.
She studied at the Bauder School of Fashion Design and Textiles in Miami, Florida. Inspired by a friend who suggested she pick up a paint brush and have some fun, she has not stopped since.
Deborah began showing her work at Nantucket gallery Made on Nantucket in 2002 and since then, she has participated in both group and themed shows at the Nantucket Artists' Association. She was accepted into the Nantucket Artists Association in 2002, and recently juried a show for the association.
Deborah was given the Mixed Media Award from the Artist Association in 2011. She also designed and painted the Safe Place image that is used for their banner and website page header. 
Deborah was the "artist in residence" for the 2013 Nantucket Garden Festival at Pumpkin Pond Farm where she painted a special garden themed painting to be auctioned off. The piece was also made into posters for purchase. The Garden Festival painting was auctioned off to help support The Nantucket Lighthouse School.