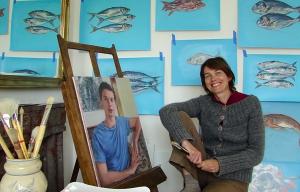 I have a love of portraiture and plein air painting. I enjoy the contemplative discipline of studio technique but also revel in the unpredictable freedom and fun of painting plein air. They both suit aspects of my personality and I enjoy the dichotomy.
My early style was formed during the 1990's when I studied 16/17th century old master oil painting techniques with Marino Barberio in Paris. The Louvre Museum was my world for almost a decade and those techniques remain the cornerstones of my portrait work.
Plein-air landscape painting on Nantucket and Southern France provided the venue for more playful artistic expression, being outside in the elements with limited time provides the perfect opportunity to be more innovative and spontaneous with less attachment to process and outcome. Although the Fish Series fall into the Still Life genre, they were definitely painted in this vein.