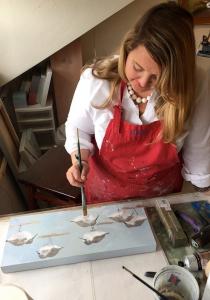 Jessica received her BFA from Clemson University and a Post- Baccalaureate Degree from the School of the Museum of Fine Arts where her emphasis was on photography, mixed media and installation. It wasn't until she studied in Italy and completed post-graduate work from Central Saint Martin's in England that she discovered the possibilities of oil paint.
Although Jessica has strong ties to the island - she grew up watching her grandfather paint in his 'Sconset studio as well as helped her parents run a successful gallery for many years - Jessica was recently based in London for four years. There she was able to be a full-time artist and take the opportunity to travel throughout Europe and stay current on the international art scene. Last fall, Jessica completed a course that took place in the wild landscape of the northwestern coast of Ireland and has since taken her work in a new direction.
Using mainly oil paint mixed with cold wax and gold leaf, Jessica hopes to evoke calmness in the viewer while engaging them to the individuality of each subject. As a dedicated animal advocate, it is important to her to portray the compassion she feels for the beings she represents.