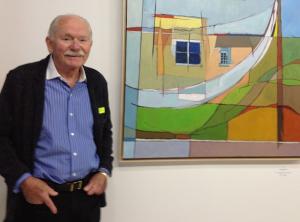 Born in Buffalo, NY in 1931.
He attended the Art Institute of Buffalo for one semester in 1950 before enlisting in the army just prior to the outbreak of the Korean War. He saw combat at Heartbreak Ridge and was awarded The Purple Heart.
After returning from service he attended the Pennsylvania Academy of the Fine Arts in 1952 to 1955 and then 1959 to 1960. He was awarded the Louis S. Ware Scholarship for European Travel and then was granted a Certificate in Painting from the Academy. He worked as a commercial artist and decorator until 1972 when he entered the University of the Arts in Philadelphia, where he earned a BFA degree.
In 1978 he earned a Juris Doctorate Degree from the Temple University School of Law. He then practiced law while still painting.
In 2003, Jim returned to painting and printmaking full time. His work has evolved from an impressionistic style to a semi-abstract style combining elements of cubist figuration and color field painting.
He has exhibited in numerous group shows and is in both private and museum collections. Jim is represented on Nantucket by Robert Foster Fine Art and the Artists' Association of Nantucket.