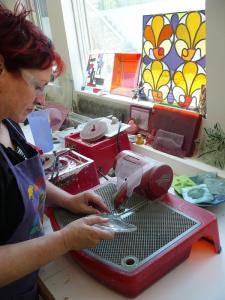 Alison MacDonald has lived and worked on Nantucket for 38 years, 30 of those years as a Tile and Stone Contractor, Designer, Fabricator and Artist who works in ceramic and glass.
While largely self-taught, MacDonald honed her art skills and ideas while designing and producing custom tiles and decorative pieces in ceramic and glass. Like many modern artists, her commercial disciplines, in mold making and glass casting, bas-relief carving and glazing, leapt quite easily into fine art.
MacDonald's present ceramic series is titled "Nantucket Relics". While living on an island surrounded by the sea offers a remarkable and sumptuous visual palette to work from, one is also deeply affected by the cultural references that surround us. In this case the inspiration is the Nantucket Lightship basket.
But more important perhaps is a creative play on the concept of a relic itself: the literal one, what we leave behind and what is its meaning, and a more abstract version, a fictional narrative or poem. The re-imagined result of an archaeological dig, the basket reference both serious and lyrical, the resulting objects and their creative alchemical glazes are compelling artifacts of the present.